Samulnori, which was created from Korean traditional music, Pungmul, is one of the most beloved genres of music among many Koreans. It is one of the most dynamic music and makes listeners thrilled with its powerful sound. Samulnori has four musical instruments. Kkwaengguari (small gong) symbolizes thunder, Janggu (traditional double-headed drum) symbolizes rain, Buk (drum) symbolizes cloud, and Jing(gong) symbolizes wind.
(Source: Seoul Shinmun)
Samulnori was first created in 1978 by Kim Deok-Soo with His Friends- Kim Deok-Soo, Lee Kwang-Soo, Choi Jong-Sil, and Kim Yong-Bae.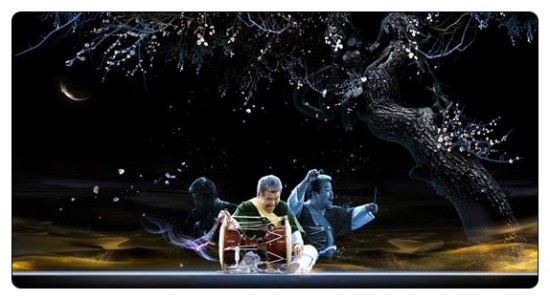 Performance of 'Digilogue Samulnori-Blooming the Dead Tree' (Source: Hankook Ilbo)
Kim Deok Soo's latest performance, 'Digilogue Samulnori' consists of four instruments symbolizing the four directions- East, West, North and South and four seasons- Spring, Summer, Autumn and Winter. The performance depicts how deserted real world blooms, as in the cycle of seasons. The show was mixed digitally and they combined the virtual reality with the real world and adopted four- dimensional (4D) technology. I haven't seen anything like this before. This is definitely something to see. Take a look at the video below -